The elevated transportation corridors have become an essential part of every city. They have a huge role to play in the image creation of every city. While the city is rapidly advancing, do we have a clear vision for the land that will be created below these elevated corridors? Many terminologies have been coined by the international activists to address this high value space in the city centers.
"non places"- French anthropologist Marc Auge
"under spaces"-  Austrian photographer Gisela Erlacher
"el-spaces" – 'Under the Elevated' by New york based Design Trust for Public Space and New York Department of Transportation
"in- between spaces"- Ar. Tere García Alcaraz based in UK
The maintenance of these underutilized spaces in terms of safety, security, and cleanliness has become a challenge to the city authorities. Through systematic research, the authors have tried to explore the potential possibilities of commercial use of this space under the elevated corridors. Various part of the Delhi Metro and Noida – Greater Noida Metro Line has been used as the sample instrument for the study.
How Space Below Metro Line Have been put to Use by people ?
Sl.No
Current uses
Features
1.
Parking

Vast ground space

Easy Access from road

2.
Illegal Markets

Linear space within city

Easily accessible(both metro and road)

3.
Waste dump yards

Private space(out of vision)

Darkness

4.
Bill boards

Direct visibility from road traffic

Displays

5.
Open defecation

Comfort of a shaded space

Away from the busy streets

6.
Rest Areas/Sleep areas

Comfort of shaded space

No disturbance from traffic/people

7.
School for under privileged

Presence of an existing roof & semi enclosed space

No disturbance from road traffic/people interaction.

8.
Fruit/Vegetable Markets

Easily accessible for people who come out of Metro stations

Shaded space for vendors
2. Volume Analysis
To study the dimension of the space the Noida- Greater Noida Metro line was documented. On a standard Indian Gauge track, the width of the overhead bridge is 9m which is at a height of 9m, in most scenarios. So literally there is an 8.5-9 m clear width of space enclosure (including the pillar), that is running linearly trough the city. The continuity of the space is broken by the metro pillars at every 30 m. This 30 m stretch is mostly unused or partially used at the Noida- Greater Noida line.
2.1  Space Utilisation
Out of the x volume of space that is available between the two pillars, 60% of it can be converted into a built volume and keep the remaining 40% volume as an unbuilt volume. Out of the 60 % of the built volume, 20 % will need to be dedicated to a vertical circulation. The remaining volume available to us would be x cu m, which can be converted into z sq m of usable area on two different levels (including a mezannine).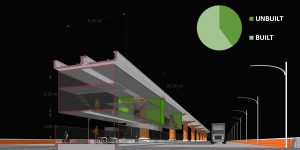 2.2 Prototyping
This module, arrangement of space between the two metro pillars, can be multiplied to form a continuous spine of functional spaces which can bring in advantage of easy accessibility from the metro stations.
2.3 Alternative Transport Spine
The 40% unbuilt volume can be transformed into an alternative transport spine for example, cycle and battery cars can be incorporated to reduce the congestion on the major network spine and reduce the pressure of last-mile commute.
3. Devising the Typology of the Spaces Below Metro Lines
Sl.No
Typology
Space below Metro Line Nomenclature
Description of Metro Line w.r.t Road
Features/Characteristics of Space Below Metro Line
1
Type 1
Elevated metro line along the road

·       Maximum visibility from road

·       Accessible by both Metro and Road commuters

         1a
Spaces Inbetween
Road on both the sides of the metro line

·       Higher visibility- higher the commercial value

·       Strategic space- can be easily accessed through MRT

         1b
Spaces Aside
Road on one side of the metro line

·       Clear visibility from the opposite street

·       Easily accessible for the road commuters with drive in possibility.

2
Type 2
Spaces Across
Elevated metro line cutting across the road

·       Strategic views from different angles/locations.

·       Frames views and Vistas

·       Semi enclosed shaded areas

3
Type 3
Spaces Around
No road adjacent to the metro line

·       Varying in nature

·       Semi enclosed shaded areas.

Note: The term road refers to major roads which are more than 12m in width
4. Design Solutions
4.1  Spaces Inbetween
Spaces in Between are the spaces that are right in the middle of the road traffic. These spaces has a higher level of interaction with the road commuters hence these spaces has high commercial values. These spaces have the potentials to be planned as an urban hub or a city centre with the major administrative / government hubs that needs to be highly accessible through the metro spine.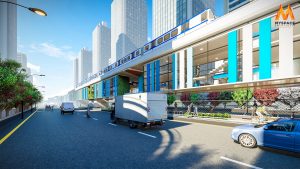 Recommendations: Spaces Inbetweeen
Sl.No
 USES
ADVANTAGES
1.
Government Offices & BPOs & NGOs

·       Reduce issues of last mile commute

·       Availability of space in prime locations.

·       Safety and security.

2.
Coworking Spaces
3.
Night Shelters
4.2  Spaces Aside
Spaces Aside are spaces which are created alongside the road with the advantage of having an existing overhead roof structure. These spaces which are suitable for both metro as well as road commuters can be put into multiple uses like stack parking, high street commercials, waiting lounges, bus shelters etc. These spaces having an elaborate frontage, opening into the major road offer them a high visibility and can be suitable rest areas or break out spaces for the road commuters.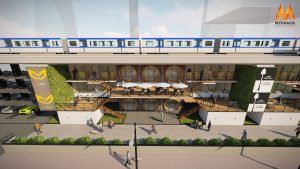 Recommendations: Spaces Aside
Sl.No
 USES
ADVANTAGES
1.

High Street Commercials/

Food  court/ Restaurents/ Gym/

Public Comfort stations

Frontage and Visibility
Easy Accessibility & Enclosed feel
Easily accessible from road
2.
Multi Level Parking
Space available at main city centres
Easily accessible for Metro Commuters
3.

Children indoor play areas

Creches

Night Shelters/ Youth Accomodations

Community Spaces
4.3  Spaces Across
Spaces Across are spaces having a direct vision from the road traffic. They have a potential to create views and vistas in the city. And hence need to be treated carefully to be aesthetically pleasing as well as functional. There can be interactive display boards and product displays to enhance the experience of the road commuters. Waiting hours in the traffic block can be made less stressful by such product displays and interactive boards. Use of vibrant colours and lighting can also improve the ambience of the space.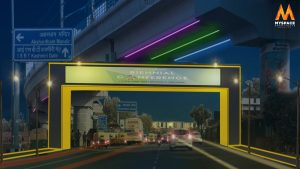 Recommendations: Spaces Across
Sl.No
 USES
ADVANTAGES
1.

Branding

Billboards

Awareness Displays

Interactive displays

City live News LED Displays

High value branding possibility

Live traffic updates

Time & News Updates
3.4  Spaces Around
Spaces Around are spaces having a varying nature depending on its locality, for example it can be green areas, vacant land or along a drain. But the kind of cosy space created with existing shade and being away from road traffic, creates a sheltered space by itself. If the spaces can be developed to its suitable potential that can be suitable for social activities like informal day school, small scale industries, artist village etc.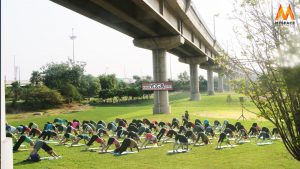 Recommendations: Spaces Around
Sl.No
 USES
ADVANTAGES
1.

Community Spaces

·       Activity Center

·       Informal learning Center

·       Meditation / Yoga Centers

·       Artistic Village

·       Street Art center

·       Art installations

·       Exhibition Spaces

·       Urban Public spaces- green lawn + park

Enclosed Envelope with shade and protection from sun & rain

Stress relief for daily commuters & neighbourhood dwellers
4. Conclusion
The possible usages identified by the author have been listed out and at the same time, there can be other possibilities too, depending on the needs of the locality. The authorities, urban development agencies, and specialized consultancy firms can be deployed to identify and suggest need-based solutions to the ever-evolving cities. While at the same time a standard guideline to identify and develop the underutilized spaces within the cities would create a well-planned city for the future.