The education industry is evolving like it never happened in history. The coming years are going to witness a tremendous transition in the methods of teaching and learning. Did the schools function without a classroom during the pandemic? If the answer is yes, that indicates a call or an urgency to evolve the traditional methods of learning. We are in the era of a paradigm shift from the memory based learning to an inquiry based learning. And what requires is not only smart classes and IT interventions, yet the spaces also need to be remodeled to suit the ease of new learning.
Hence the learning spaces we create should be tailor made to serve the following purposes:
To imbibe confidence in each and every student
Encouraging collaboration and team work,
Encouraging them to be take risks
While designing a house we ask the family how you want your home to be, but while designing a school, do we ask our children? Is it even important to ask the question to the younger generation and the generation yet to come? How do they want their schools to be like? The conventional concepts of a U, E, H, I or L shaped building is soon turning out to be a misconception. The shape of the building should evolve from them site constraints and the philosophy of the school. Hence there should be no preconceived notions or beliefs regarding the shape of the building. It must be a smart and thinking, to create an impression in the user in a cost effective manner. The architect has to make sure that the building design is capable to convey the values of the organisation through his design approaches without incurring any extra cost of cladding or flashy materials.
Here are few points that we think might help in developing a bespoke design for your school:
A Theme or Concept For The Campus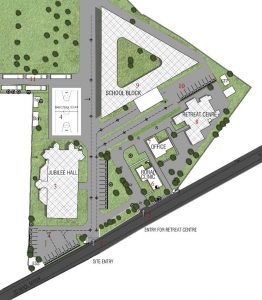 Every successful school has some core ideologies and this vision and mission needs to be translated into the campus and built form through innovative design approaches. Also the design needs to respond to the potentials and constraints of the site and its context and user groups. The open spaces as well as the built spaces need to be arranged, keeping a strong ideology that leads to innovative solutions for deriving spaces. Hierarchy of open spaces can be created based on the core concept ideas. For example, large open courts which sequentially connect to smaller internal courts and green spaces to give more personalized open spaces for out of classroom learnings. Read More